I went to that presentation on Saturday. Its now Monday. Its taken me this long to calm down enough to write a post about what happened. Thankfully, blog-reader CJ was there to keep me from going postal... He also took all the pics.

CJ and I decided to meet up at the cafe in The Health Food Center (the store hosting the anti-vaxers) a few minutes before the presentation to compare notes. I got there before him, so I took the opportunity to wander around a bit. For a 'food store', there was relatively little 'food'. A wall for organic fruits and veggies, some freezer cases, but a majority of the area was devoted to potions, pills, vitamins, extracts, and books/CDs about potions, pills, vitamins, and extracts. Isle after isle of shit. Here is a pic from the 'Reference' section.




There were also areas devoted to 'reflexology' treatments, and 'foot detoxification.'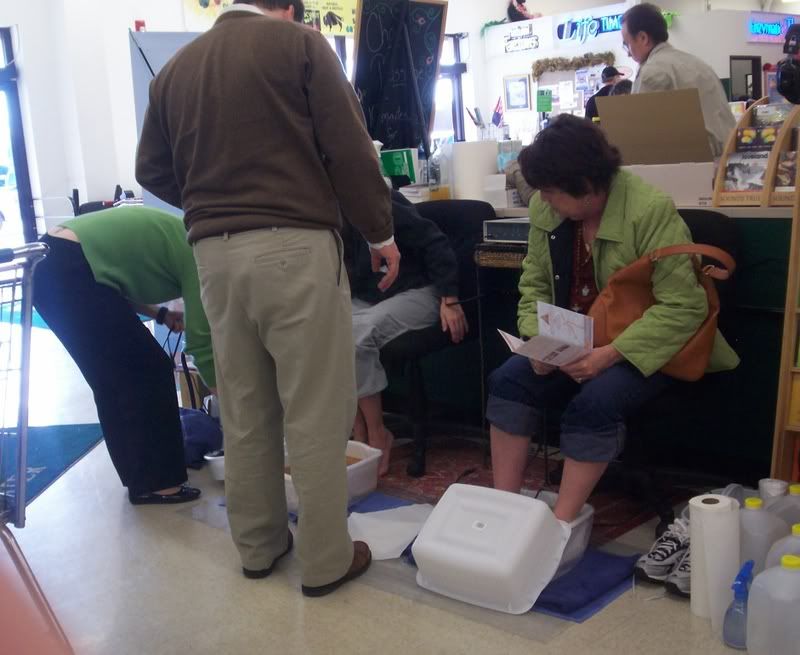 When CJ showed up, we decided to get lunch at the stores cafe. I just got coffee. It tasted like sludge water (Im sitting here drinking Folgers). CJ got a hamburger of some kind with carrot juice. It looked good, but he only choked down a few bites/sips before giving up. Little did we know that was the *least* nauseous we would be all afternoon.

We headed next door to the abandoned-store-turned-auditorium. Like Ive seen at every Creationist presentation, there were tables and tables of shit to sell.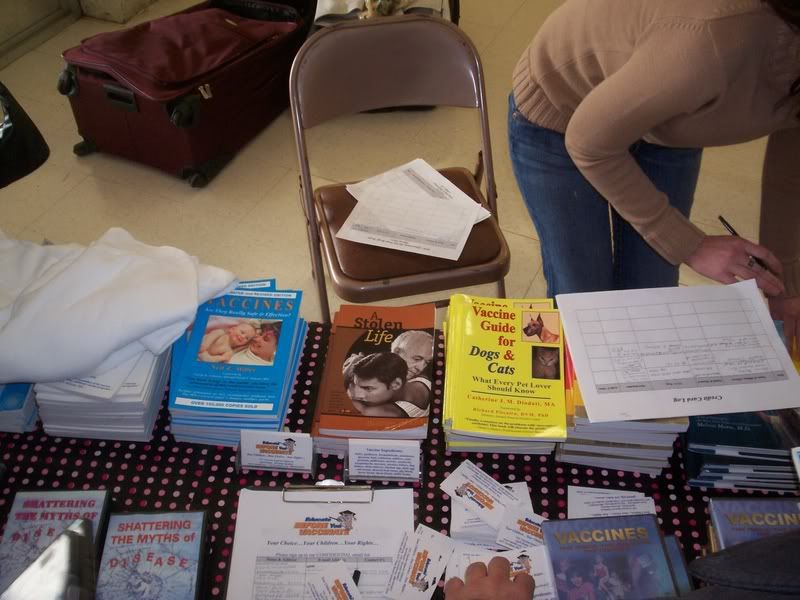 There was also a table of chiropractic nurses. The significance of this wouldnt surface until later in the day.



I really loved this abandoned store/auditorium. There was no heat. And the bathrooms were disgusting (the toilet didnt flush in the womens room), but humorously, posted on the wall was a flyer declaring "IF YOU LIKE THE WAY THIS BATHROOM SMELLS, YOU CAN BUY ____ NEXT DOOR!!!" LOL Yeah, I want an 'unflushed toilet' scented candle. And there was shit growing in the ceiling.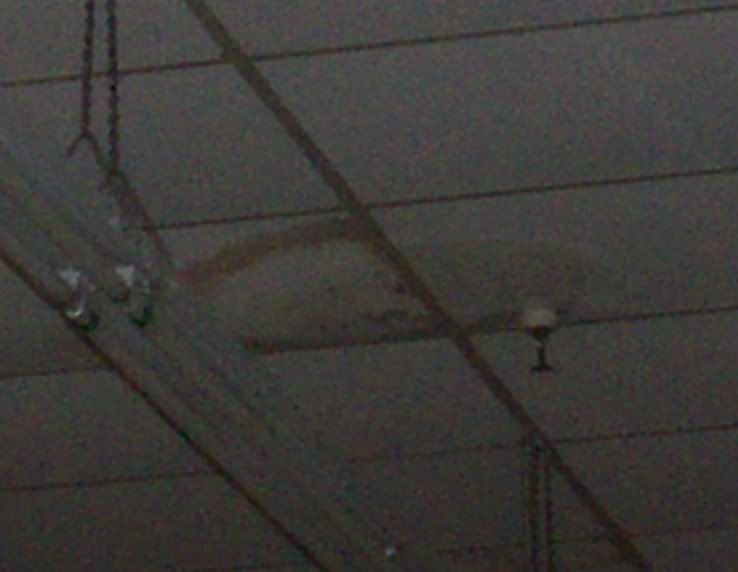 I could really tell these people were concerned about their health.

Exactly 51 seconds into the introduction, 'autism' popped up (CJ was recording it, his timer said '51 seconds'). We were told that 1 in 67 children are autistic. They mentioned that their numbers didnt match the CDC, but that the CDC was hiding The Truth.

We were also told that 'you need a good doctor, you need a good nurse, but you need a good team of chiropractors!' It seems this presentation was co-sponsored by a local chiro shop. Chiros were plugged ad nauseum throughout the afternoon.

Jenny McCarthy was hailed as a savior.

As for April Renees presentation, I was shaking I was so angry. It was a hate speech against scientists that would make any Creationist proud. After ranting about how scientists and physicians get pleasure from killing children she said 'I dont mean to degrade any of the pediatricians in the audience, if there are any, lol.' Then she promptly returned to slandering scientists and physicians.

Literally, nothing she said was scientifically accurate, and she Gish-Galloped by the book. Slide after slide of quotes from pediatricians saying how they loved killing babies and Excel graphs (like this one) with zero references to her sources. Claims that would be clarified with an introductory course in immunology and virology, yet she knew her Audience would never catch her BS. Hails of 'YEAH! THATS RIGHT!' 'AWWWWWW!' 'PRAISE HIM!' came from the audience on her cues.

You know how I always make fun of Creationists for speaking in 'coagulated word salads'? Renee took this to the extreme. She declared something called 'stealth viruses' were contaminating all vaccines. The fellow who invented that phrase wrote the introduction to Horowitzs book.

'Severe monkey viruses' also contaminated all vaccines-- CMV, EBV, HPV, HSV-1, were all 'severe monkey viruses'. Renee insisted that she got herpes from vaccines. She insisted her daughter died from EBV in her vaccinations, and blamed the physician who vaccinated her for the toddlers death. She scared every woman in the audience by insisting that if THEY were vaccinated, they could transfer these 'severe monkey viruses' to their babies, who would also die.

Im sure youll be surprised to find out she firmly established that she is an HIV Denier/Conspiracy theorist like Horowitz. Contaminated vaccines-->HIV.

Im sure you will also be surprised to hear she plugged Mothering magazine.

Im sure you will also be surprised to hear that she insisted that chelation was a natural, non-invasive way to cure autism.

Im sure you will also be surprised to hear she is a Creationist (and managed to bring that up in her presentation).

What I did find odd was that every few seconds, Renee would reference God, angels, or Yeshua. Yes, Yeshua. CJ and I were baffled, and wondered if this indicated Renee was a Jehovah's Witness, who have their own issues with medicine. So while I wanted to call her a stupid bitch in the Q&A, I asked her in my adorable voice:

Me: Im sorry, this might be too personal...
Renee: No, go ahead!
Me: Well, I noticed that you kept mentioning your faith and God and... 'Yeshua'? I was just wondering what religion you were?
Renee: I dont like 'religion'. 'Religion' to me is man interfering with Gods word. But I believe in our Lord and Savior and blah blah blah blah Biblo-crap blah blah salvation blah blah.
She wouldnt answer me.
Afterwards, I was drained. I was angry. Iron-willed ERV, who couldnt be shaken by Behes purple faced tantrums or Dembskis underwear staining flatulence, was literally shaking from this anti-vaxer. I couldnt stay for her boyfriends presentation (she kept calling him 'honey').
CJ dared me to get a pic with her. I thought I was hiding the fact I wanted to punch her really well. Photograph says otherwise (hey did I ever mention I was 7 feet tall?).
This pic sums up the afternoon perfectly.
But it was great having
CJ
there-- he gets the award for 'Best Comment EVAH!':
Renee: Grapefruit Seed Extract is so great blah blah blah you can buy it next door I never go anywhere without it blah blah blah. GSE is like Gods penicillin.
CJ: *whisper* Um, I thought penicillin was Gods penicillin.
hehehehehehehehe